The 29th edition of the Japan Cup Cycle Road Race will take place in the "Bicycle City Utsunomiya". A series of 3-day events starts with the team presentation on October 14th, Japan Cup Criterium (33.75km) on October 15th, and then the Japan Cup Cycle Road Race (144.2km) on October 16th. The former is pan-flat for sprinters, while the latter is rather selective for climbers.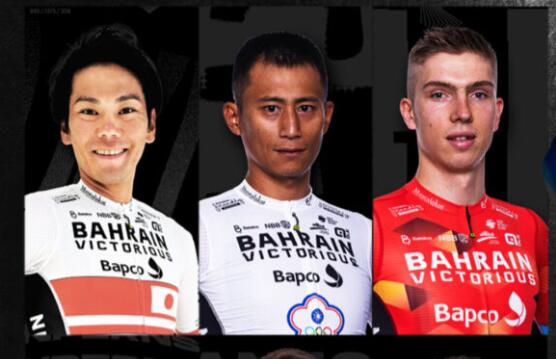 Certified as the only UCI ProSeries event in Japan, the course of the Japan Cup Cycle Road Race commemorates the 1990 UCI Road World Championships in Utsunomiya city. The 10.3km course features Mt. Kogashi (1.4km/6.8%, maximum 10.5%) during the 14 laps circuit race with a total distance of 144.2 kilometres and 2530 meters of elevation.
Yukiya Arashiro is in good spirits ahead of his 11th appearance at the race: "I'm really looking forward to participating in the Japan Cup for the first time in three years, and I'm especially happy to be able to show the Japanese champion jersey to the Japanese people this year. I am confident we will have a good race because my teammates are strong."
Bahrain Victorious Sports Director Franco Pellizotti comments: "Japan Cup is a challenging race, and in this edition, it will be even tougher seeing the number of WorldTour teams participating. Our riders are highly motivated ahead of this conclusive race of the season for Team Bahrain Victorious. We will line up our Japanese star Yukiya Arashiro, an excellent booster for our team. As a home rider, Yuki wants to honour this event, which is finally coming back into the race calendar after 2019. He's in good shape and will be our co-leader with Stevie Williams.
Our Welsh rider feels well, and he's looking to finish this season brilliantly. Climbing skills will be decisive in this race, and who is better than Hermann Pernsteiner when it comes to offering help? He has done a fantastic job supporting the captains so far, and in the past few weeks, he has shown good shape, too; he can also try to take a good result in Japan. Another great helper is Filip Maciejuk, as Johan Price-Pejtersen and Chun Kai Feng, who will be motivated after a solid performance at Tour de Taiwan. We look forward to Japan Cup, which is always well-organized and spectacular. We will also enjoy the kermesse on the eve."