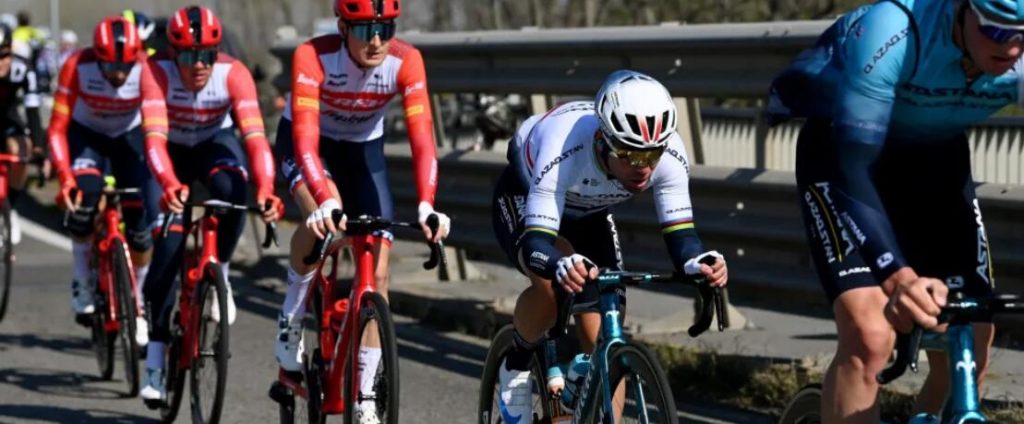 Astana Qazaqstan's acquisition of the services of Mark Cavendish resulted in the team losing a sponsor. After Cavendish brought Oakley to his side as a personal sponsor, eyewear supplier Scicon withdrew from their agreement.
According to Cycling Weekly's sister publication Cyclingnews (opens in a new tab), sponsor conflicts have led to tensions over Cavendish's contract talks with the Kazakhstan team and now Seacon's deal with Alexander Vinokourov's management. The team terminated the contract.
Due to this issue, Cavendish is no longer the only Astana driver to wear Oakleys this season, and many other drivers are no longer using their previous eyewear supplier. Astana told Cyclingnews that Scicon is no longer a partner and they are working on bringing a new sponsor to the team.
It is understood that Scicon is preparing to file a legal challenge over the team's breach of contract and is preparing to pursue liability for damages.
Cavendish has a longstanding relationship with Oakley and has refused to relinquish his relationship with the sunglass maker as part of a move to a new team late last year. In the initial photos Astana posted of Manxman riding a bike, he wasn't wearing any sunglasses. Cavendish then wore a pair of gold Oakley Katos in his first race at the Muscat Classic Astana earlier this year.
Aleksey Lutsenko is the first of ten other Astana drivers to appear at Oakleys for the UAE Tour, Milan-San Remo, Paris-Nice and Tirreno- Adriatico and other gamers.
Other Astana drivers such as Fabio Felline, Cees Bol, Joe Dombrowski and Yevgeniy Fedorov chose to stay at Scicon for the time being. The team is believed to be working hard to find a new eyewear supplier, but it's clear it needs to be a sponsor and would love to see Cavendish opt for a rival brand.
Cavendish's partnership with Oakley has previously caused problems in his career.
The problem arose when he drove for Bahrain McLaren in 2020, despite the team's partnership with Rudy Project continuing throughout the season. Riders with personal sponsors are not uncommon in cycling, and are common in other sports as well.