Hayley Yoslov did it.
A few weeks after she launched a petition calling on the organizers of the Sea Otter Classic to revise the start time of the race, the organizers of the Fuego XC mountain bike race contacted Cycling Weekly to let us know that there will be changes for the 2023 event.
Yoslov is a high school student and cross-country racer. When asked to complete a social justice project at school, Yosloff decided to research social and clinical gender gaps in sports and discovered she didn't have to look far.
In April, she raced the Fuego 40 mountain bike at the Sea Otter Classic in Monterey, California, the largest cycling festival in North America.
Part industry show, part motorsports festival, the four-day event draws thousands of athletes to approximately 300 professional and amateur events.
In her age group race, Yoslov was quick to catch up to the men's class and spent much of the race struggling to pass slower riders in other classes rather than being able to race her own .
"It was very disruptive to the women's game, as we were forced to deal with overtaking by hundreds of men all over the track, mostly single track," Yosloff commented.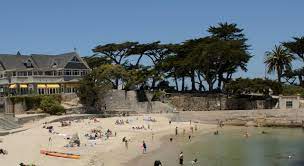 "It ruins the racing experience and changes the challenge of racing from a physical challenge to simply driving other racers. There's absolutely no reason why capable young women should be left behind by 70-year-old men."
In talking to other female racing drivers, Yosloff learned that the experience was far from unique to her. Together with her teacher, she started crunching some numbers. Looking at start and finish times, number of riders and more, her crunching of the data yielded some strong numbers.
Looking at the Fuego 40 XC races at the 2022 Sea Otter Classic alone, the data shows that, on average, a 17- to 29-year-old female racer has to outpace 78 men while passing the track. The leaders in these races had to pass 218 drivers who were not in their field.
These figures do not include repeat passes, those who did not finish the race, or those who overtook competitors from their own field.
Her data also revealed several simple solutions.
"If the two fields were separated by another hour, a female racer could only outperform 14 male racers on average, an 82% reduction," Yosloff told Cycling Weekly.
"We [also] found that if the men's and women's classes started at the same time, male racers aged 15-29 outpaced an average of 19 women over the course – a 75% reduction from what women faced – leading people gave up about 43 women."
Elite men and elite women will now start first, followed by all remaining women's categories.
· After the 95-minute interval, all remaining men's divisions will start.
While there will still be some overlap between racers from different disciplines, race organizers expect that to only happen in the last five miles of the track, which is mostly on fire road climbs with plenty of room to pass.
Life Time President Kimo Seymour told Cycling Weekly: "It's important to us that we listen to the community's feedback and make adjustments where it makes sense for the athlete experience."
"We are also looking at potential changes to other events throughout the weekend to ensure we provide the best player experience possible."
Any other changes will be announced closer to the April 2023 event date.
"I think these changes are going to be a huge help in removing the inequalities that women face. I really like that they not only put women first, but separate men and women for a long time, so the leading male drivers Nor will it be blocked on a single track," Yoslov responded after receiving the message.
"I also really appreciate their dedication to assessing change in other races."